Some say, you need a car or get on a plane to see the world. I beg to disagree! What you really need is time.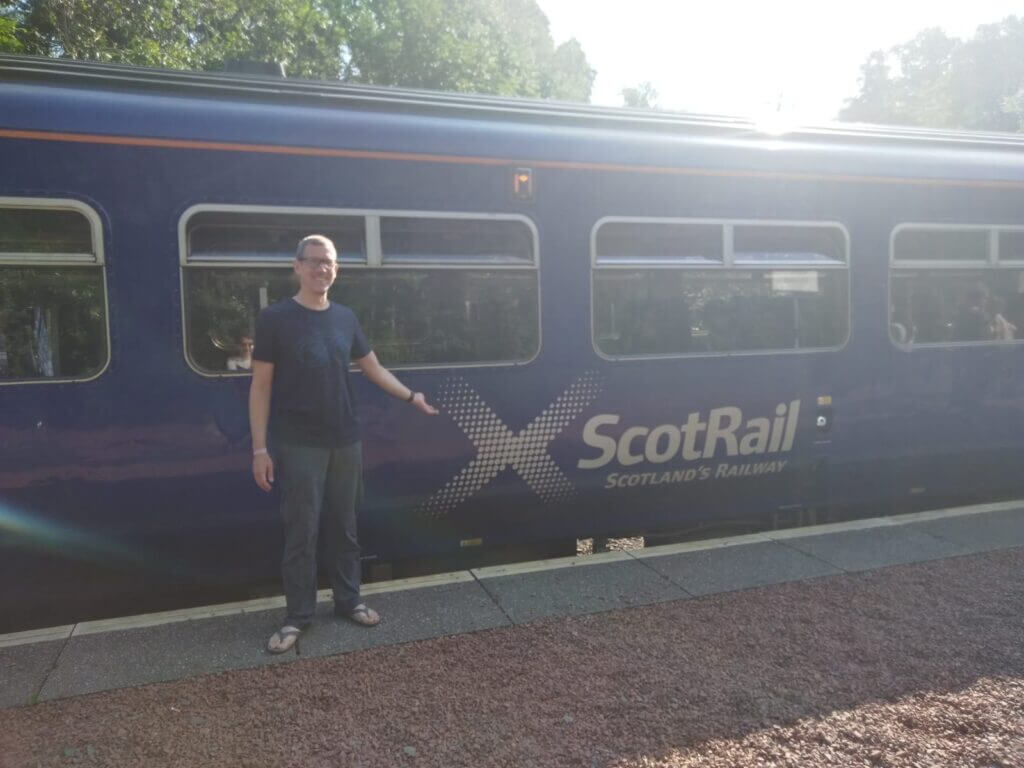 See more pictures in my album on Flickr or in the original German blog post.
Highland Myths
The Scottish Highlands have been firing the imagination of people in central Europe for centuries and helped to sell cinema tickets and tartan kilts. According to a popular myth, the best and proper way to travel to Scotland is horseback riding or using a Land Rover.
Can you Travel by Train through Scotland?
Looking for inspiration for other means of travel, I came across Mark Smith, "The Man in Seat 61", a travel blogger of the older generation, who concluded that "there's no need to fly within Europe." Further reading, that inspired me beyond the mainstream stereotypes: "Watch me see", a blog by Kathi Kamleitner, also the publisher behind Glasgow Vegan Guide. Adding some older travel guide books, word of mouth, and more information found on the internet, we felt informed enough to plan an itinerary. After finishing to book our beds and breakfast in advance, as we planned to travel during the peak season, we finished preparations to stay curious and open for recommendations by hosts and companions.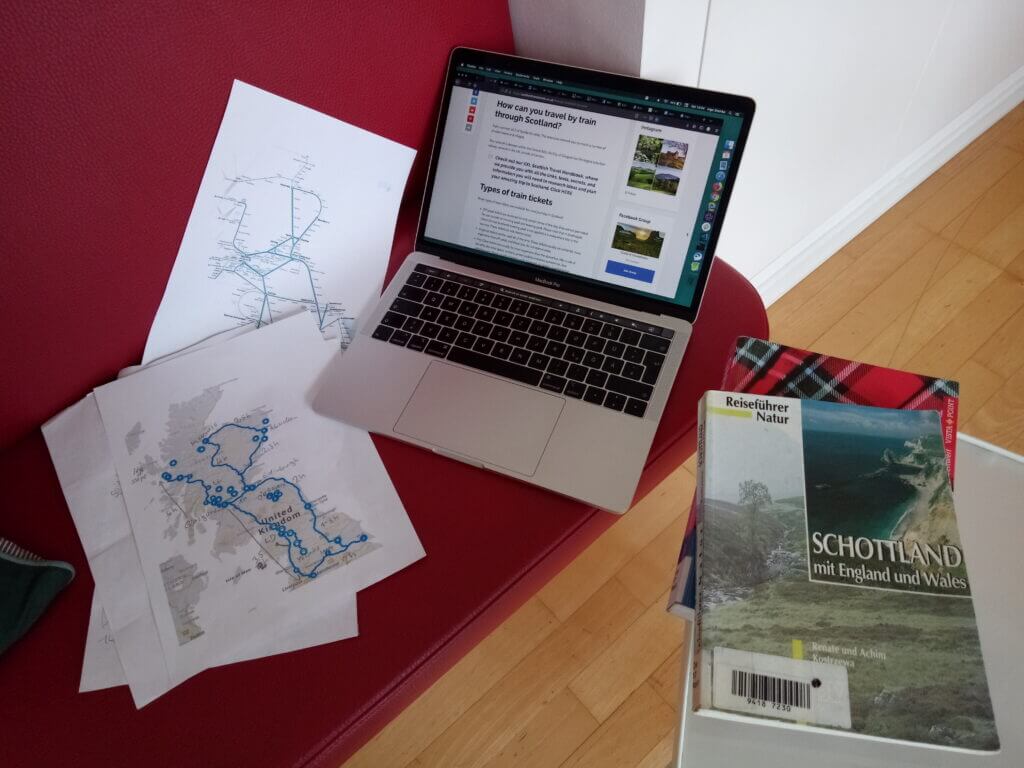 Taking the train from Düsseldorf to Glasgow would take 11 hours, so we decided to head for the English Lake District on our first day. But an unplanned stop of our Eurostar train just outside Brussels due to a damaged power wire prevented us to go any further than London! We reached the lakes one day later to continue our travel without any more incidents.
In the Land of Peter the Rabbit
Lake District and Yorkshire Dales had been recommended to me as an insider tip (at least from the viewpoint of German mainstream tourism) and they did not disappoint me! The beautiful landscape was a harbinger of the Scottish Lower Uplands. In the Yorkshire Dales, you can find small Victorian train stations caringly decorated with flowers by local volunteers. In the Lake District, many signs came both in English and Chinese. Maybe Peter the Rabbit, popular in Chinese English lessons, probably did not take the train, so the tourists might get lost without translation. The small settlement of Settle seemed to be fallen out of time, and in the nearby Malham, an elderly ice-cream seller who drove us home when we had to hitchhike, told us that there used to be more bus connections ins the countryside "before everyone had their own car".
Joining the "Inner Circle" in Glasgow
After a week of country life, we moved into an Airbnb in Glasgow West End to enjoy the culture, music, and nightlife of the city. In Glasgow, the Underground train is a "subway" that runs as a loop like in an outer and an "inner circle". Bus service is great during the day, but, unlike Edinburgh, hardly exists at night. Traditional cabs seemed to have been replaced by Uber. Proceeding to the Isle of Skye, we passed high mountains like Ben Nevis and the Glenfinnan viaduct, famous from the Harry Potter films, to the ferry port of Mallaig, where both train passenger and car owners had to wait patiently for one of the rare ferries to the Isle of Skye.
Hiking and Music on the Isle of Skye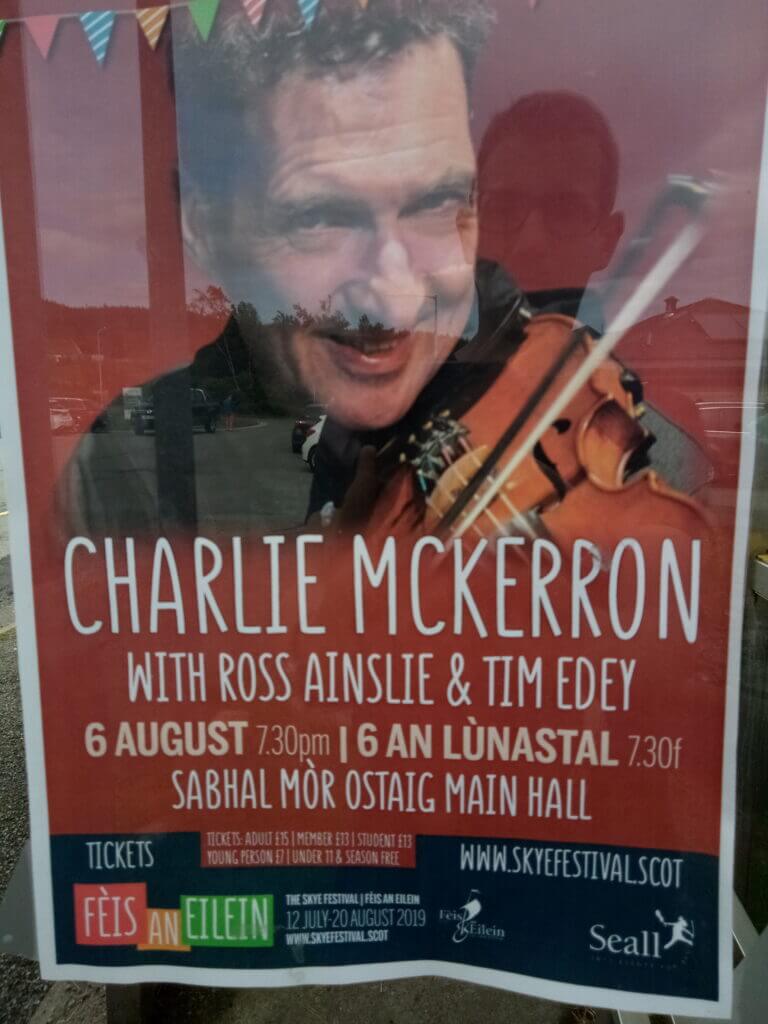 In Sleat, the green "garden of the island", our hosts were surprised that we came without a car, and they gave us the number of a friend who would rent out e-bikes, would it not have been late evening already. In the end, we got along fine taking the bus and hiking a lot. Not only did we experience the stunning outdoor scenery, but when we were invited to a concert in what seemed to be a small education centre, it was nobody less than the great folk violinist Charlie McKerron, who had been announced only on a few small concert posters on the few bus stop shelters.
If you don't have the chance to see Charlie McKerron live, there are many fine albums and music videos of sessions with fellow musicians like the guitarist Tim Edey and the piper Ross Ainslie, but I still want to share a moment of the great and, at least for us, unexpected, concert at Fèis an Eilein Isle of Skye Festival 2019: Charlie McKerron (fiddle), Tim Edey (guitar), and Ross Ainslie (pipes and whistle). If you open the video on YouTube, there is some more traditional Scottish folk music in the playlist.
After the concert, our host offered us a glass of Whisky and told us that he used to own an alternative publishing company in Glasgow before moving to Skye and that there are several German ex-pats who have settled on the Island (we met one of them the other day). Depending on other people turned out to be a source of hospitality, and most of our hosts were interested in our story and happy to share their own and give us recommendations off the beaten track.
On a rainy Sunday morning, many young backpackers with bicycles boarded our bus. A few minutes later, one of them took out her smartphone and started to talk copiously into the camera in Spanish, probably talking to her followers on YouTube or Instagram. But there were others that had neither a bike nor a bus ticket, who proceeded to walk despite the rainy weather. We had already met them on the ferryboat where they told fellow travelers how they had been hiking for months with their small tent.
The Fringe and a Romantic Traveller
After several days on the Isle of Skye, we continued our trip by bus through the highlands to Inverness, where we could have taken another train to the North, to proceed to the Cairngorms (Aviemore, our last hiking base) and, last but not least, to Edinburgh to join the hullabaloo of the fringe festival after a quiet breakfast next to our accommodation in Leith.
On the train back to London, a young man invited us to a glass of red wine and romanticized the idea of meeting strangers on a train without telling each other the name nor contact data, which reminded me of an old film that must have been popular in the 1990s.
Freedom and Flexibility of Interrail
The Eurostar to Brussels departed without delay, and the check-in for this special train route is just like checking in for a flight at the airport where you definitely must arrive on time. This was the moment when I realized the degree of freedom and flexibility that we had enjoyed on any other train line thanks to our Interrail ticket. Short of sleep, in an accommodation next to three nightclubs, Brussels was not much more than a stopover on this trip. Although I would have loved to be in Brussels when I was still interested in artistic comic books (bandes dessinées), we should rather have stayed the night in London. Even if London would have been the underwhelming stopover then, we could have saved a few euros by taking the Eurostar as part of a German Deutsche Bahn ticket. Checking your options in advance can save you more than a penny taking the train in Europe!
Overall, we had a great trip and did not miss anything. You don't need a car or a plane to see the world. What you really need is time, an open mind, and, to be honest, enough money. The fact, that a plane would have been much cheaper than the train, is a result of a failed non-environmental policy that will hopefully change with growing environmental awareness.