The Pudding
's
How bad is your Spotify
is a fun app with attention to detail.
Analyzing my musical taste based on my spotify data and their sources of independent music culture did not provide any surprising insights, but a great entertainment value. This sparks more joy in my heart than did the annual official spotify statistics.
Many years ago, I did a DJ set according to the motto "obscure diversity". Together with "open mind culture" this is great match to my seemingly obscure musical taste. Still a lot better than mostly anything that gets played on the radio! Two artists that I seem to listend to too much are actually authors (Dan Brown and Andreas Eschbach) and I only listened to one audio book each. Another one, the speed folk band Fiddlers Green, has been one of the last live concerts before everything has been cancelled due to the pandemic.
Jazz and classical piano music has not been mentioned at all throughout the analysis. Maybe that's the kind of music I should give more attention in the future?
I used to think I am quite open-minded, and I love to discover new music! But how to discover new music on spotify that does not suck? Discover new music playlists seem to be all about autotuned hip-hop, pseudo gangster rap, or sad boring first-world songwriter kids. But maybe I am just getting old. No wonder why I prefer music released before 2000, but that is still sad somehow.
Pudding's app only needs read access to your spotify account.
Curious? How bad is your Spotify?
Quoting the original taste analysis: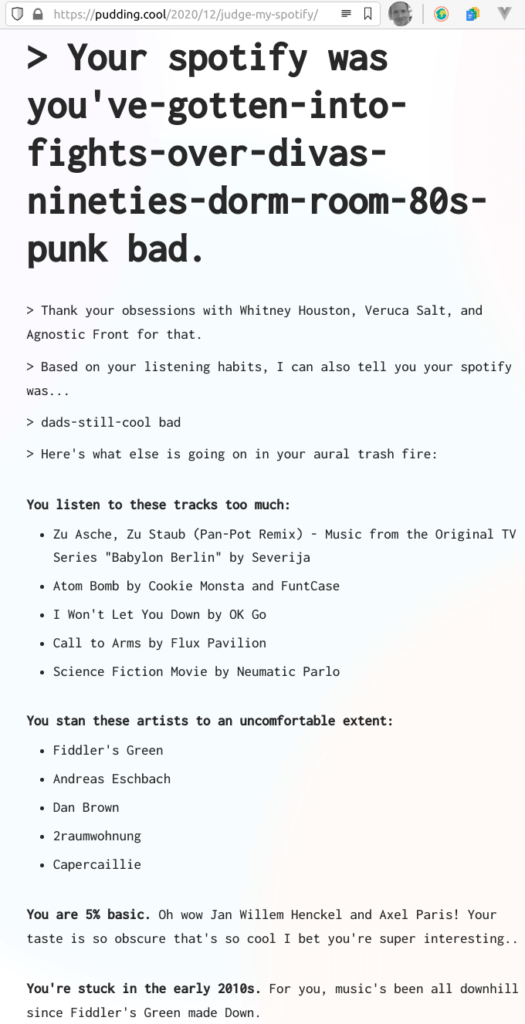 Your spotify was you've-gotten-into-fights-over-divas-nineties-dorm-room-80s-punk bad.
> Thank your obsessions with Whitney Houston, Veruca Salt, and Agnostic Front for that.
> Based on your listening habits, I can also tell you yours spotify was…
> dads-still-cool bad
> Here's what else is going on in your aural trash fire:

You listen to these tracks too much:

Zu Asche, Zu Staub (Pan-Pot Remix) – Music from the Original TV Series "Babylon Berlin" by Severija
Atom Bomb by Cookie Monsta and FuntCase
I Won't Let You Down by OK Go
Call to Arms by Flux Pavilion
Science Fiction Movie by Neumatic Parlo

You stan these artists to an uncomfortable extent:

Fiddler's Green
Andreas Eschbach
Dan Brown
2raumwohnung
Capercaillie

You are 5% basic. Oh wow Jan Willem Henckel and Axel Paris! Your taste is so obscure that's so cool I bet your're super interesting…

You're stuck in the early 2010s. For you, music's been all downhill since Fiddler's Green made Down.